Prudential Life Ultimate Premier Farewell Plan: An excellent Policy
Purchasing life insurance coverage can be one of the most important and enduring financial decisions the head of a household makes for his or her family. A life policy can ensure that a family's most pressing financial obligations are met even if a primary caregiver is suddenly absent.
At Prudential Life Ghana, one comprehensive plan the provides financial cushion and enables families meet their financial obligations when a parent or a spouse passes on is the Prudential's Ultimate Premier Farewell Plan.
The link below details the policy.
*With more than 171 years of experience in prompt claim payment and excellence, Prudential Life Insurance Ghana will Cushion you and provide the financial security you need in trying moments of ur life.
*Policy Summary*
*Policy:*
*Ultimate Premier farewell Plan*.
*Maximum sum Assured: 50,000 cedis*
*Minimum Sum Assured: 20,000 cedis*
1.This policy pays u up to 25 thousand Ghana cedis for a lost parent or in-law after 12 months of a parent being on this plan.
2. Prudential pays u up to 50 thousand Ghana cedis for a lost spouse after 6 months of being on this plan.
3. Gives u a cash back of 15% of total premiums paid every 3 years if no claim is made.
4. Cash back payment does not affect your sum assured if a family member passes on. You still receive your full amount.
5. A shopping voucher of up to 500 Ghana cedis for 3 consecutive months after the passing of a love one.
6. 100 Ghana cedis of call credits to inform family and friends about this event and other plans.
7. All premiums paid before the qualifying dates are returned back to you in full.
8. After being on this policy for 12 months, the policy never lapses.
9 By the age of 60, u stop paying premiums, but all lives insured still remain covered under this policy.
10. After 6 months of being on this plan and u pass on God forbid, everyone on this policy is still covered while no premiums would be paid for them.
Note that if death is through accident in the waiting period of 6 to 12 months, the sum assured will still be paid.
*How much premium will i pay?*
It depends on the ages of all the covered lives.
Please supply the ages of all covered lives to determine your monthly premium.
Your first premium can be made through mobile money, subsequently through bank deductions.
Annual, bi annual or quarterly payments can also be made.
Other beautiful policies includes:
*A Free Covid-19 cover to all our New and Existing clients.* (It covers diagnosis, hospitalization and death benefits).
*An educational support Plan for kids*
*3. A hospital Cash Plan for the family that pays u up to 200 cedis a night on admission at the hospital*
.
*4. A Wealth Plan that pays u a minimum of a 100 thousand cedis after 10 yrs with massive insurance benefits.*
More from:
contact(call, text, Whatsapp) consultant for further assistance: +233244 151627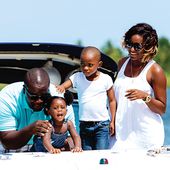 Ultimate Premier Farewell Plan
The Prudential Ultimate Premier Farewell Plan is a special life insurance policy that enables you to meet your financial obligations or to give financial security to your family after you have ...
https://prudential.com.gh/services/ultimate-premier-farewell-plan/